Velma Grace Reese, 89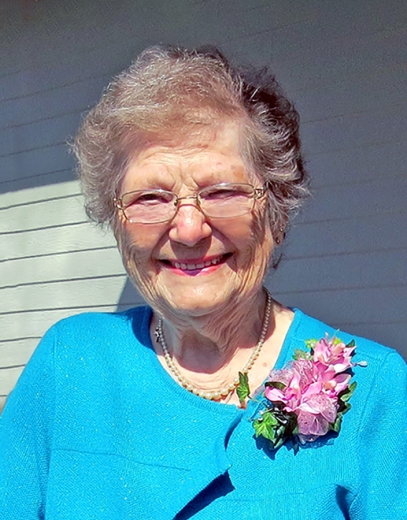 Velma Grace Reese, 89, of Madrid, died peacefully on December 31, 2021, with her family by her side, at
Methodist West Hospital in West Des Moines, Iowa.
A celebration of life service will be scheduled in the spring, as Velma so loved the flowers.
Velma was born on September 23, 1932 to Louis and Marie (Taylor) Buche. Velma graduated from
Sheldahl High School, attended Iowa State Teachers College and was a substitute elementary teacher.
Velma married her high school sweetheart Don Reese on April 3, 1954 and had four children, Carol,
Linda, Ron and Bruce.
Velma was active in the Sheldahl United Methodist Church, Daughters of the American Revolution, PEO,
and her bridge club. She was a baker and ran a small cake decorating business for many years
specializing in spectacular wedding cakes for the local communities.
Velma was especially proud the Century Farm award they received in March 2015 as third generation of
the farm originally purchased by her grandparents in 1915. Velma recalled many fond childhood
memories of playing in the farmstead trees and her grandmother's molasses cookies.
Velma is survived by her husband Don, daughter Carol (Tim) Gumm of Ankeny, sons Ron (Mary Jo) Reese
of Madrid and Bruce (Kelly Reed) of Waukee. Her brothers James Buche of New York, Charles (Darlene)
Buche of Tennessee; sister, Phyllis Martens of Madrid. She will be missed by her grandchildren Curt,
Justin, Nick, Brandon, and Jennifer; and her great grandchildren Brecken, Adeline, Etta, Emilia, Evan.
She was preceded in death by her parents; sisters, Margaret (Roy) Picht, and Irene (Larry) Dutton, sister-
in-law Helen Buche, daughter Linda and grandson Cameron.
In lieu of flowers, memorial contributions may be given to the Sheldahl United Methodist Church and
Madrid Fire Department EMS.
Our family wishes to thank the outstanding staff at Methodist West Hospital for their compassionate
care of Mom.
Category:
The Madrid Register-News
The Madrid Register-News
124 S State Street,
Madrid, IA 50156
Phone:  515-795-3667
Mid-America Publishing
This newspaper is part of the Mid-America Publishing Family. Please visit www.midampublishing.com for more information.