Madrid is ready, and prepared, for first ever state basketball appearance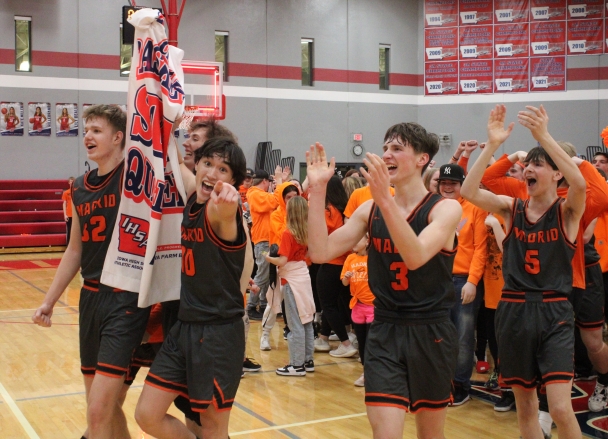 Madrid Register-News Editor
This coming Monday afternoon, around 2 p.m., the Madrid boys basketball team will get to experience something no other team before them has ever done. The group will step out onto the floor of Wells Fargo Arena and take in the atmosphere of state basketball. Madrid, who dispatched Baxter in the substate finals by 16 points, found themselves named as the seven seed in the 1A tournament as they take on a perennial power in North Linn, the two seed.
"When you get to state every game is going to be tough," Madrid Head Coach Brian Surratt said. "It was no surprise to us that we were playing them as we figured we would be the seven and they would be the two. North Linn has a great tradition of winning. They are well known for their pressure defense and high scoring offense. They're a tough opponent, but we wouldn't expect anything less."
"We've watched a lot of tape, I think (Coach) Surratt put together seven different games together," Senior Jackson Newell said. "They got a couple of lengthy guys and a couple of shooters, they play tough defense, it'll be a tough game."
Tough is exactly what the Lynx have been this year. They enter the 1A state tournament with an undefeated record of 24-0 and mostly ran past everyone through the regular and postseason so far. North Linn won the Tri-Rivers Conference this year and they only had one game that was decided by less than 10 points, a two point win over Alburnett on December 9.
"It's cool to be one of those teams to play at the tournament," Senior Kadyn Severson said. "I've watched it all four years of my high school career. It feels good to be one of those teams to compete at that level."
"They got five good athletes, and a pretty deep, team so we'll have to play our best game against them," junior Jake Leonard said. "Be more physical than we were last year and get after it and see what we can do."
North Linn averages 84 points a game and has held their opponents to just 37, winning on average by 47 points. Kadyn Severson feels like it'll be fun to play a team that's been at the state tournament quite a few times over the years.
"They are an explosive scoring team, but I feel if we can really buckle down and we can play some hard defense, our scoring can match theirs," he said. "We can make it a fun game against each other."
"Offensively, we have to make sure we are getting ourselves in the right spots," Surratt said. "If we get caught in the corners, we're going to be in trouble. Defensively, we will have to really work our tails off to keep them in front of us and not let their shooters get open looks."
They are led in scoring by junior Ty Pflughaupt who is at 16.9 points a game and hauls in 8.1 rebounds while shooting at a 61 percent clip. Senior Tate Haughenbury is at 16.3 points, 7.2 rebounds and 5.6 assists per game. Sophomore Mason Bechen is a threat from behind the arc, making 45.6 percent of his three-pointers and scores 14.8 points a game. Senior Ben Wheatley is also dangerous from distance, making 41 percent of his threes and averages 14.8 points a game as well.
Sophomore Toryn Severson said it's been a dream to play at the state tournament and knows it will be a group effort to slow the Lynx down.
"We really need to be attached to our defensive plans," he said. "We're going to have to stay on our feet and they're athletic too. We're just going to have to do everything perfectly on the defensive end to stop them."
Sophomore Brody Buck noted when he saw they were against North Linn, he said there were a little nerves, but are going to come and play.
"We're just going to try our best," he said. "You know, they're undefeated but all we can do is play our best."
"I think as soon as we get the game going, there might be some nerves, but we'll be fine for the most part," Newell said.
As a team, North Linn can really shoot the ball, making 53.4 percent of their shots and 39.4 percent of their three-pointers. They're 66.4 percent from the free throw line. The Lynx average 33.9 rebounds, 22.9 assists and 14.3 steals per contest as a team.
"It's going to be really hard to stop," Buck said. "The next couple of days we're going to try to find a way to stop it with a game plan."
"They boys have been great thus far. I don't think we're super nervous," Surratt said. "We've broken a barrier for Madrid basketball and gotten somewhere that not a lot of people get to. Our focus is on taking this all in and enjoying the experience of playing the state tournament. We have a talented team and if you want to make noise down here, you have to make plays, so nerves aren't going to help you."
To get to Des Moines, North Linn rolled through everyone in 1A-Substate 3. They pounded Edgewood-Colesburg, 103-24 before running away against South Winneshiek, 97-64. They took a 33 point win over Maquoketa Valley in the semifinal, 78-46 before beating Wapsie Valley by 21, 72-51 to advance to state.
Sophomore Fabian Ortiz-Alaniz feels like they need to stay in front of the Lynx on defense, and then drive and make shots on offense.
"Yeah, first time playing down there," Ortiz-Alaniz said of nerves and then how to shake them. "Make a couple of shots, in warmup or in game. Get some buckets early."
"We had a lot of lofty goals this season and making it to state was at the top of the list. Our guys have put in countless hours shooting and watching film," Surratt said. "Their commitment to Madrid basketball is second to none. I'm so proud of all of them and how they've responded to the expectations of this season. The experience of playing in the state tournament is a dream all of the kids in our state have and only a select few get to do it. More than anything it's great for our school and our community."
North Linn also enters this year's state tournament as defending 1A champions, having knocked off Grand View Christian in last year's title contest.
The Tigers have felt little nerves so far and aren't concerned about playing in a bigger arena having seen the backdrop at the Ballard gym in the substate final. Madrid enters the game on Monday with a 22-2 record. The Tigers average 70 points a game and only allow 45.
Toryn Severson paces Madrid with 20.8 points a game to go with 6.4 rebounds and 2.5 assists. Kadyn Severson averages 13.4 points, 4.1 rebounds and 4 assists a game. Newell, who leads the state in blocks across all classes, scores 11.7 per game to go with 12.8 rebounds, 3 assists and 6.3 blocks a night. Buck pours in 10.8 points, 4.8 rebounds, 3.2 assists and hits 37 percent of his three-pointers. Ortiz-Alaniz averages 10.3 points, 3.6 assists and 2.1 steals per game.
As a team, Madrid makes 50 percent of their shots and 34 percent of their threes. They're solid at the free throw line at 73 percent. The Tigers haul in 38 rebounds, dish out 18 assists, get 7.5 steals and 9.8 blocks per game on average.
Offensively, Toryn Severson stated run the offense and space out, like they did against Baxter while getting opportunities on screens and cuts. However, he won't feel intimidated as much playing at Wells Fargo after last Saturday night and is looking forward to playing on Monday.
Leonard, who is one of the first players off of the bench, wants to bring the energy in practice this week and when he steps on the floor. Senior Jacob Kockler will also look to bring energy off of the bench on Monday afternoon.
"We just need to play our own game and we can do what we need to do to win the game," he said.
"We need everyone to show up and represent for Madrid," Buck said.
Tip-off is set for 2 p.m. on Monday afternoon but it could be later depending on how long the first two games go.
Category:
The Madrid Register-News
The Madrid Register-News
124 S State Street,
Madrid, IA 50156
Phone:  515-795-3667
Mid-America Publishing
This newspaper is part of the Mid-America Publishing Family. Please visit www.midampublishing.com for more information.