James Harris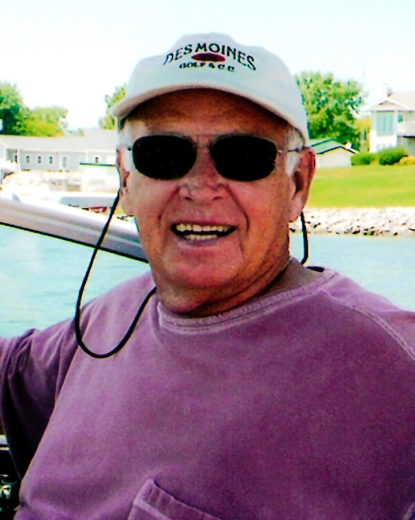 James Dean Harris passed away from Kavanaugh House at the age of 82 from heart disease.
Jim was born June 4, 1940, to Dorothy Juanita Poore and Lee Edwin Harris. He was born in Ashland, Illinois, where they lived until they moved to the Des Moines area. Jim attended Dowling High School. He proudly played on the 1957 Boys State BB Championship Team. He graduated from Dowling in 1958. After graduation, he attended Montana State University, which is now known as the University of Montana, at Missoula.
Jim worked for the City of Des Moines and Firestone Tire & Rubber prior to 1974. From 1974 to his retirement in 2002, he worked for Jacobson Warehouse Company as Warehouse Manager, Superintendent of the Warehouses, VP of Operations and Partner.
Jim was a huge fan of sports, especially college football and men & women's basketball. His favorite team: Iowa Hawkeyes. He also was an avid fisherman and golfer.
Jim was a 25-year member of Des Moines Golf & Country Club where he enjoyed countless rounds of golf.
Jim is also known for his gracious giving to Cardiac Rehab at Unity Point Hospitals in Des Moines.
Jim is preceded in death by his son, Greg Harris; brother, George Harris; granddaughter, Jessica Dale; mother and step-dad Dorothy & Bill Harley and former spouse, Jeannie Renda.
Jim is survived by this wife of 33 years, Janet; children: Christy (Eric) Smith; Dina (Ernie) Looney, Mike (Nina) Harris & Michele (Cole) Summers. Six grandchildren with one on the way, and four great grandchildren. His brother Frank Harris and sister Karen Formaro. Numerous nieces, nephews and his beloved, Gary, yellow lab.
A celebration of Jim took place Thursday, January 26, 2023, Madrid Iowa, from 4:00 to 5:30 p.m.at the Iles-Sundberg-Kirkpatrick Funeral Home with a Visitation and short service. At Jim's request, oatmeal raisin cookies were served. His favorite.
Jim was a caring, loving husband, father, grandfather, brother, uncle and friend. He will be missed by all who knew him.
Thank you, EveryStep Kavanagh House, for the excellent and loving care they provided him in his final days.
In lieu of flowers, please consider a donation to his favorite charity:
Unity Point-Des Moines Foundation
1415 Woodland Ave, E-200
Des Moines, IA 50309
(tax ID :42-1467682 given online at:
https://www.unitypoint.org/desmoines/support-adult-hospitals-1.aspx
or by calling 515-241-6304
Category:
The Madrid Register-News
The Madrid Register-News
124 S State Street,
Madrid, IA 50156
Phone:  515-795-3667
Mid-America Publishing
This newspaper is part of the Mid-America Publishing Family. Please visit www.midampublishing.com for more information.