Bernadine L. Ritter, 90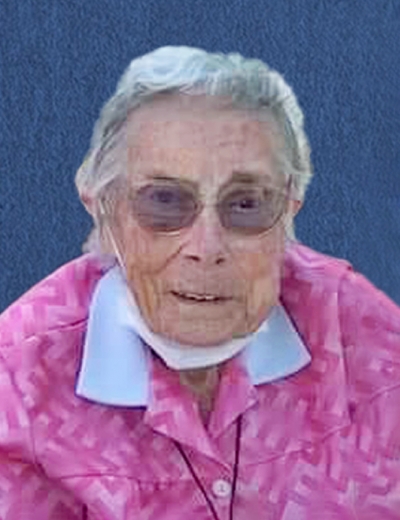 Bernadine L. Ritter, 90, of Woodward, IA passed away on Sunday, January 17, 2021 at the Granger Nursing and Rehab Center.
Bernadine was born September 9, 1930 in Lancaster, MO, daughter of James Arthur and Opal (Armstrong) McNary. She received her education in country school near Downing, MO and at the age of 16 was married to Gerald Ritter. They first made their home in the Centerville and later Cincinnati, IA areas where Gerald worked as a hired hand. They later moved to Woodward and Bernadine worked at the Woodward Pharmacy as a clerk and running the fountain and grill area. She later took a job with the Woodard State Hospital working in the housekeeping area until her retirement.
Bernadine was active in the Woodward United Methodist Church and helping with the Woodward Meals on Wheels program.  She enjoyed her monthly get togethers with the Breakfast Club as well as her Bingo nights, gardening and working puzzle books.
She was preceded in death by her parents, husband Gerald, two sons, Roy and Ray, a grandson, a great granddaughter, a sister Bernice and a brother Gary.
Bernadine is survived by her son Roger( Carol) Ritter, daughters-in-law Colleen Ritter and Mona Ritter, grandchildren, Bernadine, Kathleen, Brian, Jennifer, Andrea, Melissa and Heather, 5 great-grandchildren, three sisters Betty Jo Purvis, Barbara Ross and Beatrice Fugate and two brothers, Bob and Jimmy D. McNary.
A Memorial Service will be held at a later date at the Woodward United Methodist Church with burial in the Woodward Cemetery.
Sundberg-Kirkpatrick Funeral Home is in charge of arrangements.
Category:
The Madrid Register-News
The Madrid Register-News
124 S State Street,
Madrid, IA 50156
Phone:  515-795-3667
Mid-America Publishing
This newspaper is part of the Mid-America Publishing Family. Please visit www.midampublishing.com for more information.